Apps are one of the most well-converting traffic sources for the financial niche. Affiliates believe that this technique is not for everyone as if it's something complicated. They are sure that you need deep programming skills and newbies will never be able to break into it. In fact, everything is not so harsh. Yeah, there are some difficulties, but you will face them with any campaign you launch on FB. However, it does not mean that a beginner should not even try working with it.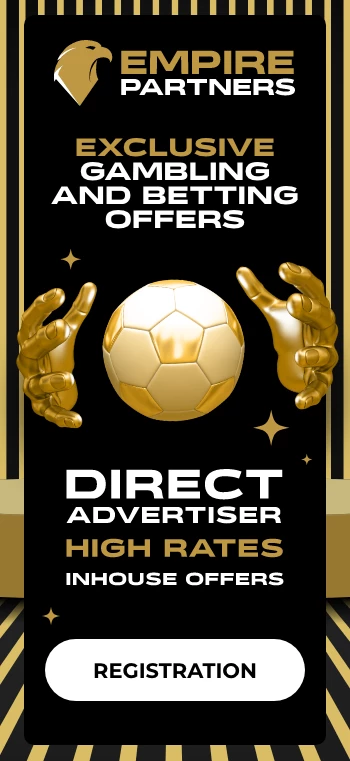 Here is Vyacheslav, the leading affiliate manager at Leadbit Finance, a financial CPA network that won 1st place at the Partnerkin Award 2022. He would like to tell you everything he knows about driving traffic with apps. He also shares the best offers for such traffic. Well, let's deal with this difficult topic for true programmers.
Spoiler: it's easier than it looks!
You Shouldn't Be An IT-Genius
Demand generates supply, so there are a lot of services offering ready-made applications for any tasks and platforms. Moreover, affiliate programs suggest ready-made applications that are already customized for their offers. In fact, the role of an affiliate in driving traffic with apps includes attracting traffic to these apps. They are already created by experienced programmers.
That's why you don't have to be an IT genius. However, if you have such skills, you can simplify your life by automating a big part of your routine. Let's take an example. You can code your own interface to work with ADB (if you are using Android), instead of registering accounts by manually resetting your phone every single time.
Here we go again, Android is Google Play. If you work with AppStore, you won't get into iOS so easily. However, the target audience of the financial niche doesn't use iOS mostly. It makes no sense to create apps because it is much easier to take ready-made ones. By the way, you don't even have to pay for it, there are many ways to get affiliate apps for free.
Top Financial Offers To Drive Traffic With Apps
Okay, you don't have to be a programmer, that's clear. But where can you get converting financial apps to drive traffic? Vyacheslav, one of Leadbit Finance's representatives, has a great list of apps!
Vivus (Mexico):
CPA is $3.2;

Conversion rate from install to application is 14.7%;

Applications for issuance is 35%;

Prohibited sources are brand search, adult & sensitive websites.
DIGIDO (Philippines):
CPL is $5.6 (starting);

CPS is $29.6–34.4 (it depends on the number of deals);

Prohibited sources are UAC, Apple search ads (advertising by brand), brand contextual advertising, ShareIT, Xapads, adult/porn, spam, doorways, motivated traffic, cashback, clickander, toolbar, assistance registration, guerrilla marketing.
MoneyCat (Philippines and Vietnam):
Age from 22 years old, younger is not issued.
CPS is $8-16;

CR (inst to reg) is 36%;

CR (reg to new_loan) is 26%.
* If CR from install to new_loan is less than 0.5%, such traffic = fraud.
Pesoredee (Philippines):
CPI is $0.1–0.8;

Prohibited sources are all except In-App and ASO, by agreement only;

CR (inst to reg) is 42%;

CR (reg to new_loan) is 35%.
About Different Types Of Apps And Promotion
So, we get the apps and we don't need to code anything, it's great! And… What should we do with them? Promote, of course! However, here you need to understand that apps are different. Not every app can be promoted by the same techniques and in the same sources. The point isn't in the essentials of apps, not in the moderation of the source, and not even in the requirements of the advertisement. All this, of course, must be taken into account, but now we are talking about app types.
You still don't need to be a programmer, but you have to do a little digging. In short, all apps are divided into three types:
Standalone applications are ordinary applications you can download from Google Play, App Store, or their analogs. Android, for example, has APK applications, iOS provides IPA applications. If the user see certain ads, they will be redirected to the browser by clicking the link;

WebView applications are the same apps, but when you click on the link the offer opens in the same window. This approach allows you to significantly increase the conversion. Unfortunately, such apps don't last long, but at least they are not difficult to promote.

PWA not-complete-applications. Technically, it is not an application, but a site turned into an app. But don't be a nit-picker. Otherwise, we will call WebView an OS component, not an app, and we will get completely confused. It is enough for us to know that for the users the difference is imperceptible. Such apps last for a long time, but it is much more difficult to promote them. Still, anyone can create them.
It is enough to understand the next:
Standalone. They are suitable only for the purchase of advertising in them. In fact, this is not even driving traffic to the app. To simplify it completely, you can just buy ads in it.

WebView. They can be promoted across distributions using ASO, as well as large sources like FB, TikTok, UAC, and any other ad networks connected to AppsFlyer. You can also boost installs in order to raise them to the top. Not for long, for sure, but possible.

PWA. They can be promoted without distribution. In fact, you are driving traffic to a link. It opens up a huge number of opportunities with the right cloak settings. Moreover, they are much cheaper than WebView.
Simply put, if you are a complete newbie, take PWA. If you already have experience in driving traffic to apps, choose WebView. If you are a Guru, forget about the section Being a programmer is not necessary, and make your application for driving traffic to everything in the world :)
FAQ
Are the apps in the affiliate marketing niche as great as other techniques?
Vyacheslav: Yes, the approval increases by about 15–20%.
Do you have ready-made apps?
Vyacheslav: Now there are direct offers for applications from MFIs to Mexico, Vietnam, and the Philippines. There are also WebView applications that showcase Mexico, Vietnam, the Philippines, Colombia, and Spain.
I would like to work with apps. What should I expect?
Vyacheslav: You need agent accounts in AppsFlyer, Adjast trackers. Desirable (mandatory for working with us) experience of working with applications. However, experience from other verticals will do as well. The main thing for us is that the webmaster does not spoil the statistics of the advertisement.
How long does it usually take to promote apps?
Vyacheslav: Most of my webs on ASO take 5-14 days on average. After that, the conversion begins.
What's the best: PWA, WebView, or Standalone applications?
Vyacheslav: We work with both PWA and WebView. They do well, so it's hard for me to single out something, the results are kind of the same.
Where is more financial traffic, on Google Play or AppStore?
Vyacheslav: Based on my experience, I'll name Google Play. Apparently, iPhone owners still do not need the services of MFIs. Although there is traffic from the App Store.
How often do Google and Apple change the rules of the game?
Vyacheslav: To be honest, I have not yet encountered this, so I cannot say for sure. According to webmasters, this happens about once a year and a year and a half.
How to choose the right financial offer if you work with apps?
Vyacheslav: There are no specific criteria. Now you should test everything. In the PDL niche, mobile traffic has not yet been burned out. In fact, it has not even really been promoted yet, when compared with other niches. I would rely on the popularity of the brand and the number of existing installs.
I would like to work with the apps. Where do I start?
Vyacheslav: Start by studying agent cabs in AppsFlyer and Adjast services. After that, register in ad networks with in-app traffic. Then learn the basics of ASO. If you are a beginner, this will help you navigate. If you are already an experienced person, it's not my place to teach you :)
What is the average percentage of approval in the ASO niche?
Vyacheslav: It all depends on the GEO and the payment model. If we average it very roughly, it will be about 10–40%.
What GEOs are the best to work with applications?
Vyacheslav: Based on the numbers available to me, now at the top are Vietnam, the Philippines, and Mexico. They come with the largest conversion rate.
Summary
As you can see, in order to start driving traffic with apps, you do not need to be a programmer or have any deep specific knowledge. In fact, it's enough just to buy an app and sign up in the network with in-app traffic.
However, if you want to get the maximum profit, it's better to deal with ASO, combine different types of applications, automate account farming for cheating installs, and generally run into your own development. In the finance niche, you can get a profit without much trouble. The niche has not yet been burned out, not even close.