Even by the standards of the crypto market with its unstable components, Bitcoin is still deemed extremely volatile. Oddly enough, it doesn't deter investors from the coin: instead of turning to safer options, for example, USDT, they prefer to stick to BTC as it brings high profit. But is it, in fact, worth the struggle?
Let's find out!
Influence, It's All About Influence
Linkin Park, Barack Obama, and Bitcoin—what do they have in common?
Yes, it sounds a little like Lewis Carroll's famous riddle about ravens and writing desks, but actually, there is a commonality, namely, the year of 2009. Linkin Park released their new single, Barack Obama was sworn in as the 44th President of the United States, and Bitcoin, the first crypto coin to exist, was established by its creator Satoshi Nakamoto.
Even though the crypto market has sufficiently expanded over the years, and blockchain has evolved, developing a variety of decentralized digital currencies to offer, Bitcoin still remains one of the most popular assets for investment. And that's where you can refute the Beatles with their 'you-all-need-is-love' motif. No, all you need is a stable Internet connection, and you're good to go.
Bitcoin is not that different from any other coin, but while many factors influence its price, it doesn't really depend on the components of the crypto market that much.
In reality, this is Bitcoin that sets trends and participates in price development, but at the same time, the coin quickly reacts to general inflation rates, crypto news, and other related events, especially those that cover the branch or large cryptocurrencies such as Ethereum or Shiba Inu.
Another factor that should not be neglected or underestimated is ecology, as it—or lack thereof—plays a significant part in mining. The process of mining harms the environment, so many Europeans prefer more eco-friendly tokens created by innovative methods. And, of course, mass adoption, merge, technological breakthroughs underway—that's what gets the market going.
If you're curious as to which events influenced Bitcoin price, find them in the graph below (Sept 2020 — Apr 2021).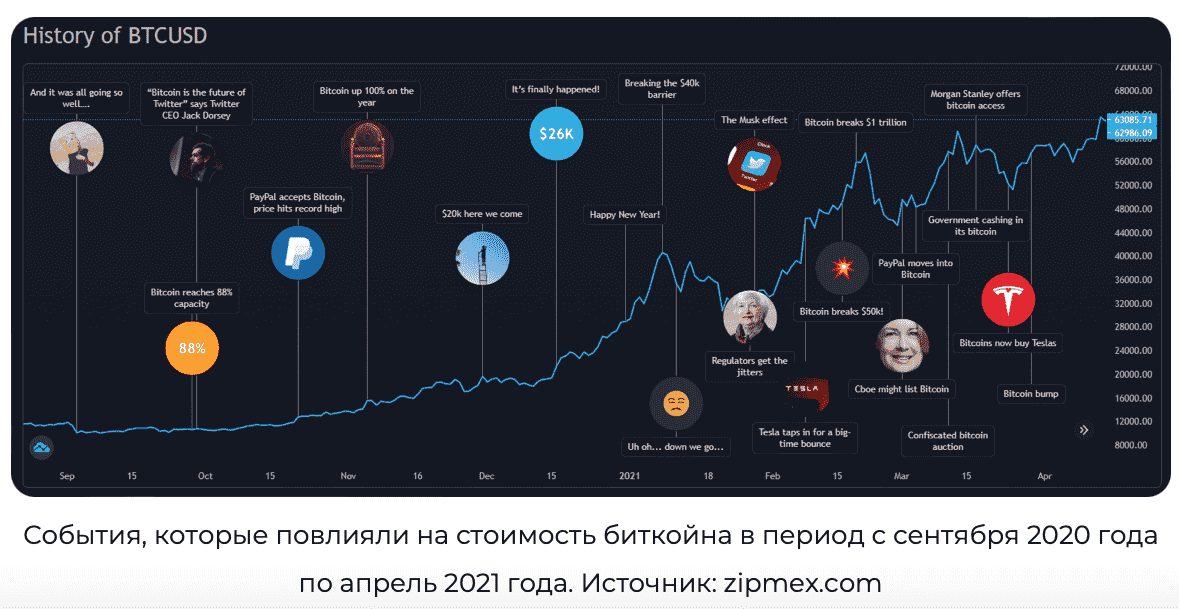 What's Your Story?
Unbelievable, but at its peak, the Bitcoin market cap was even higher than that of some famous enterprises. Here is the graph: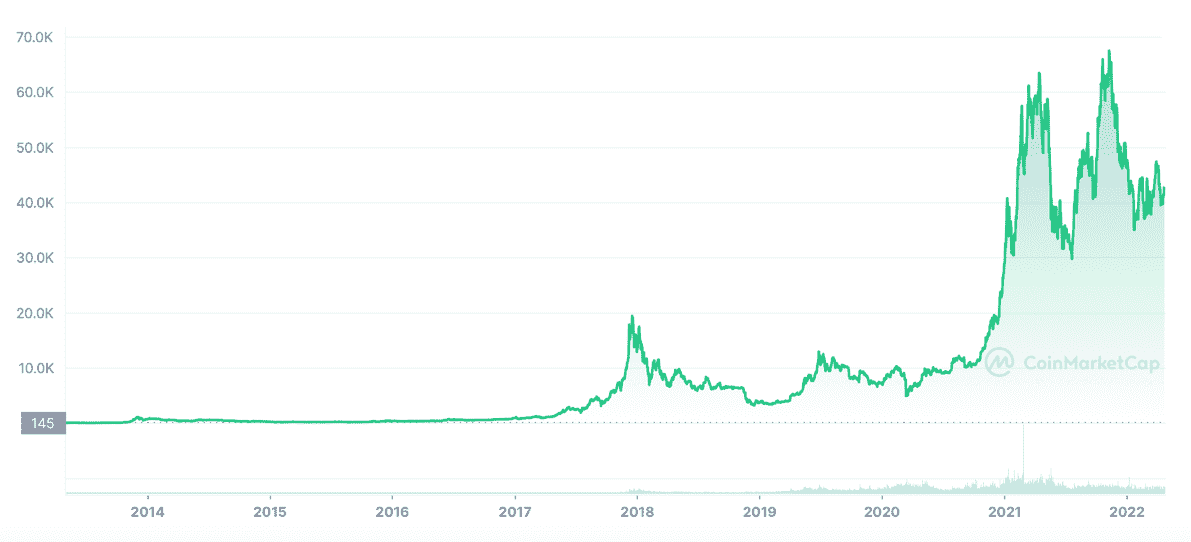 According to the chart, Bitcoin's price cycles continue to shrink, but even though the price regularly falls, the average value, on the contrary, increases. So, with the readouts like that, Bitcoin currently ranks first in the entire crypto ecosystem.
In a nutshell, the coin has unleashed its potential and can be considered a good enough investment opportunity: the sudden rise (for example, in December, the price rose by 1,81%) can turn this cryptocurrency into a solid asset.
Bitcoin Prediction
2023 has already started, and our local Madame Lenormand, also known as Best Analysts on the Media, can sum up a few things based on endless charts, graphs, and indicators. So, the minimum Bitcoin price is expected to hit $26,366. The maximum expected price of BTC is approximately $31,479. The average trading price could be $27,113, according to Changelly blog experts.
While these are some important pieces of information to keep in mind, there are, undoubtedly, dozens of questions teeming in your head. Well, let's see if we can give you the answers! (We can.)=
Is Bitcoin a good investment?
Given the current price trend, it is necessary to invest wisely and keep in mind the volatility of crypto assets. But as a long-term investment, Bitcoin is a profitable enough option.
Can BTC grow?
It looks like the average price of BTC could reach $17,686 in the first months of the new year.
Will Bitcoin ever reach $100,000?
It's always possible: after all, the coin has already doubled its value several times. However, this will require another market price surge. According to Changelly blog experts, in a five-year plan, the cryptocurrency could likely rise to $111,263.
Will Bitcoin drop to $10,000?
Paradoxically, this is also possible. After all, the crypto market is incredibly volatile and the issue of crypto regulation remains unsolved.
Why can there be only 21 million Bitcoins?
The simple answer to this question is "because it was designed that way".
But why can't this limit be extended?
It is a deflationary measure, which partly explains why Bitcoin price is so high. As to why this exact figure equals 21 million, there are several theories. One is that the total value of all physical money in the world when BTC was developed was $21 trillion. As a result, if Bitcoin completely replaced fiat, 1 BTC would be worth $1 million.
Is Bitcoin a safe long-term investment?
Bitcoin is a relatively safe investment compared to other cryptocurrencies. However, it is still a high-risk asset.
Is it too late to buy Bitcoin?
History shows that it is never too late to buy it. Today, its price is lower than the maximum cost, so in the future, the coin may rise again.
Conclusion
In this article, we reviewed the movements and fluctuations of the notoriously unstable cryptocurrency known as Bitcoin. There are several things to conclude: according to Changelly blog experts, the minimum price of the token will be about $26,366, and the maximum price will be $31,479. So, obviously, the coin has a chance to grow even more, which makes BTC a good enough investment in 2023.
Disclaimer
Market opinions may not coincide with the editorial viewpoint. Traffic Cardinal does not provide investment advice. The material is published for review purposes only.