General
India is the largest country in South Asia. It shares land borders with China, Bhutan, Nepal, Pakistan, Bangladesh, and Myanmar and has maritime borders with Indonesia, Sri Lanka, and the Maldives.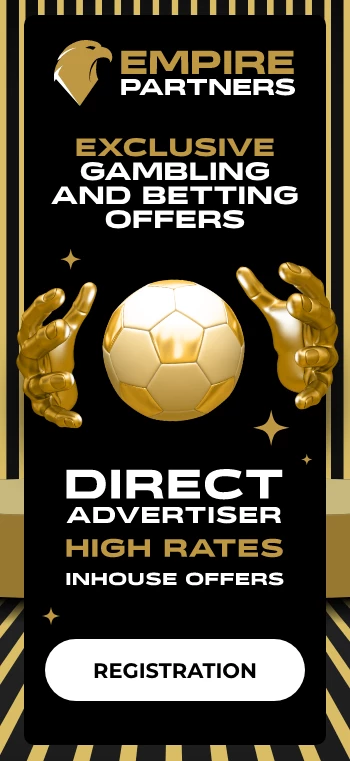 Currency
The official currency of India is called the Indian rupee. However, people also welcome dollars here, so creatives in both currencies will work well enough.
Language
More than 40% of the population speak Hindi and its dialects, but it's not the only option here: Marathi, Urdu, and Gujarati are also popular. English, on the contrary, is used primarily in tourist places and wealthy areas, so don't forget to plan marketing campaigns and test the language of the creatives in a particular region before employing them.
Biggest Cities
There are three major centers:
Mumbai (AKA Bombay) is the financial capital of India, one of the world's top ten centers of commerce. It is also known for its Film Industry: that's where Bollywood originated.

Bangalore is Indian Silicon Valley, teeming with IT companies. The sun is not so scorching, tourists are not so numerous, and most inhabitants speak English.

Hyderabad is another technological township full of IT professionals, start-ups, co-working spaces, coffee shops, and hangout spots.
Quality of Life
India is listed as one of the tier-3 countries and is mistakenly considered developing. In reality, it ranks 6th in the world in terms of economic development with a nominal GDP of 2.94 million dollars, which is not surprising considering its IT infrastructure; however, the abundance of slums and uncontrolled fertility rate lead to a decrease in the overall wealth figure.
Population
People primarily work in engineering, agriculture, light and heavy industries, energy, tourism, and IT.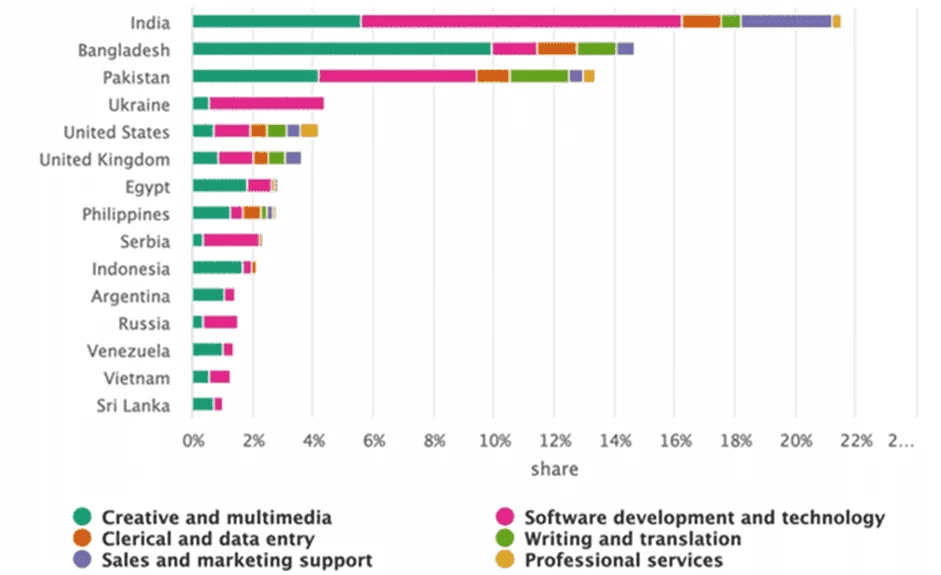 The sex ratio in India is uneven. Men predominate up to 75 years, which in the world's statistics seems highly unusual as, in nearly all northern, western and African countries, women's life expectancy is longer than men's. It can be explained by an ancient Indian tradition of female infanticide, which is somewhat characteristic of rural areas. There, it is expensive to marry girls off; moreover, they are deemed quite unhelpful in rough labor.
The average income depends on the industry: public sector workers earn approximately $200, and in small businesses, the income reaches $450. The most profitable businesses are IT and tourism. Still, it is also possible to make money in small and medium-sized companies as long as they are located in large cities. Thus, an independent middle programmer with English skills can earn about $2000 working for western companies, while the same position at an Indian enterprise will offer only $1000—$1300.
Target Audience
Indians are good-natured and open-minded people, which peculiarly mingles with their natural piety. They often spend time with friends and get along well in large communities. At the same time, they know how to sequester themselves in a crowd: yoga and meditation practices, widespread in the country, help them gain inner balance.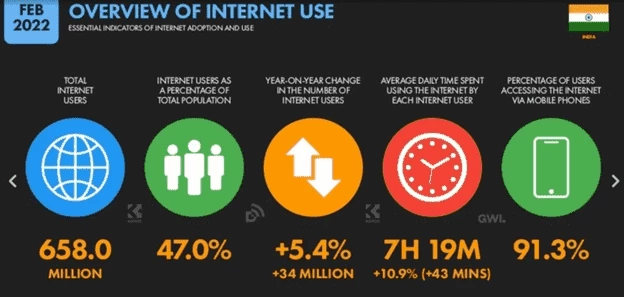 Poverty became an engine for the Internet. As an average Indian cannot afford to pay as much as a Norwegian, it would be a near-suicidal experience to impose Norwegian prices on the Indian public. So, inspired by the amount of traffic and the number of potential customers, Mukesh Ambani, founder of Jio Infocomm Ltd., created the Indian tech miracle by investing in the Internet. As of 2022, the country has an unprecedented number of IT specialists, cheap, fast Internet, and 658 million users.
Spymetrics study shows which platforms Indians use regularly. Google, YouTube, Facebook, Instagram, WhatsApp, Twitter, and XHamster (18+) enter the top.
Best Niches
Nutra. A range of products work exceptionally well: among those, one can find products for weight loss, teeth whitening, hair growth, body and face care. Women's social status explains the outstanding results: Indian women are expected to give birth to children and take care of them, which is already a difficult task since families in the country are quite large, especially in poor areas. Constant childbirth, lack of career prospects, and the necessity to stick to the 'children — home — husband' route inevitably invalidate a woman in her own eyes, so she ignores beauty practices, gains weight, and neglects how she looks. Therefore, Nutra-related offers are the best option for 50+ women.

Gambling. Extreme poverty triggers Indians to seek quick profit, and casinos are the right place for it: they offer an opportunity to hit the jackpot, which might not be big, but nonetheless remains pleasant. No matter the scale, such successes motivate people to participate in such activities even more.

Betting. Oh, this niche in India is almost sacred. During the IPL period, when the best teams participate in cricket tournaments, Indians give up everything and do nothing but binge-watch the matches. This interim is the juiciest for the affiliate marketers working with this niche.

Adult dating converts fine as well. Even though it fell away from public interest in 2020 due to COVID restrictions, in 2022, its popularity is growing again. Again, owing to poverty, legal prostitution and no-strings-attached dating thrive. So, developers regularly unveil a variety of dating applications.
Best Traffic Sources in India
The best traffic sources in India usually are contextually targeted and teaser ads, SEO, FB, and In-App. Along with those, YouTube, Instagram, and WhatsApp work just as nicely. An important note: FB and YouTube are best compatible with Nutra and gambling, while In-App is a perfect option for dating-related offers.
NB! The Indian government believes that TikTok causes damage to the sovereignty and integrity of the country, so they banned the app, so it can only be accessed via a VPN. It somehow influences the audience: the Indians are more willing to trust people from a similar ethnic group, which means that creatives with Indian-looking people tend to work well.
Creative. How To?
India is notorious for its visual content: marketers just do not care much about the result, so if you want to be heard, use simple banners and short texts without vague implications. Here are the recommendations.
Nutra offers for women. If you are working with this category of offers, you'd better come up with "before-and-after" pictures. No embellishments needed!

Gamble offers. Make sure to add wealth and luxury, women and Indian men wearing expensive clothes and wristwatches.

Betting offers. As simple as that, include images of local cricket stars, specify the amount of money won, and bank transfers.
Naturally, creatives with a figure of gravitas are better converted in India. No matter what niche you plan to launch, just add a Bollywood star, and it'll pay back. The most important things are:
The currency (you can add either the rupee or the dollar).

The language (which depends on the region).

The colors, along with the mood.
Remember, Indians are cheerful people who want to experience positive emotions and give them back to the world.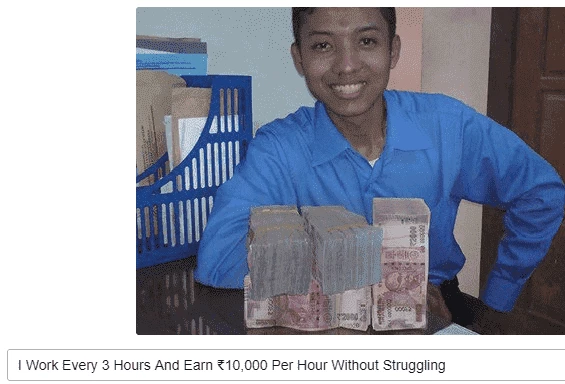 A gray ad for a gambling offer: the person demonstrates piles of money he must have made by gambling, showing that anyone can follow his suit.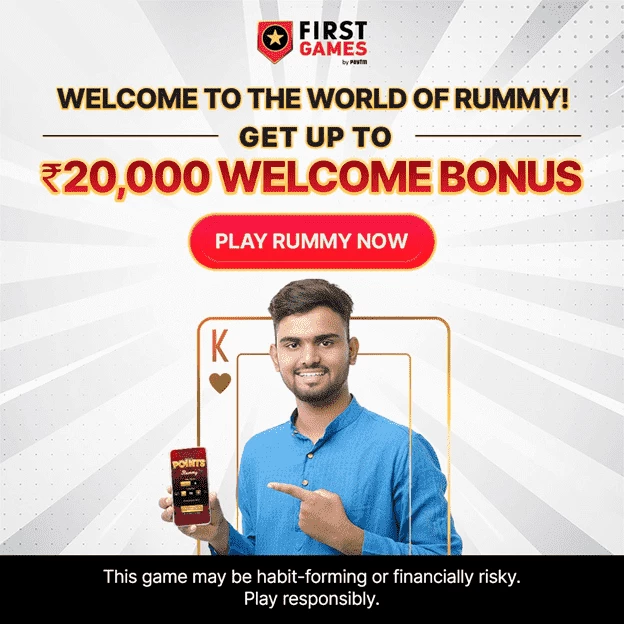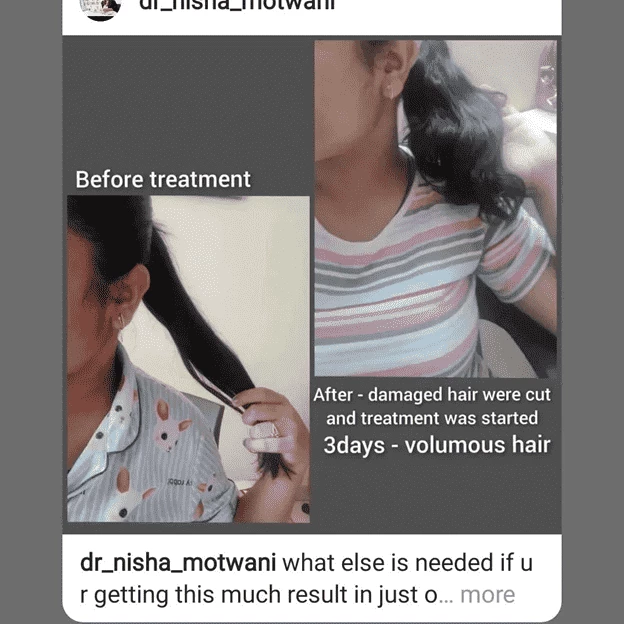 Hair restoration product. Remember the 'person of gravitas' trigger? Here it is in all its glory. A potential customer receives a piece of advice from a certain Dr. Nisha Motwani, demonstrating a clear example of improving the quality of hair.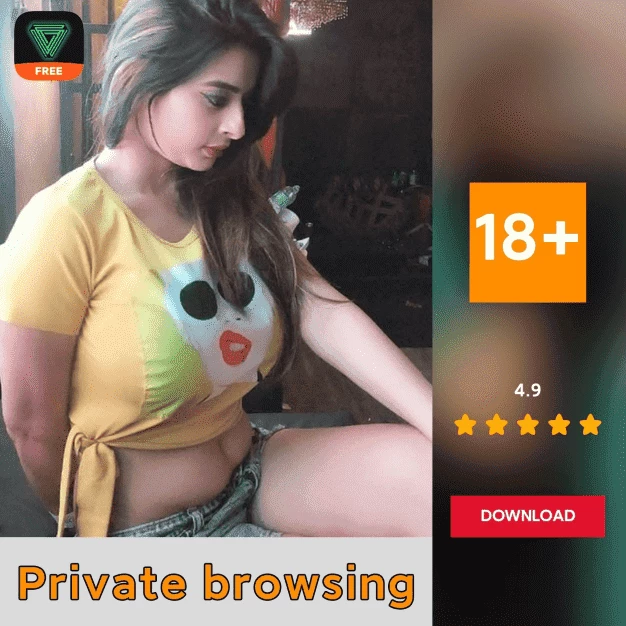 18+ Dating App Ad. Here's a demonstration of a beautiful woman. Indians have their ideals: long black hair, huge eyes, traditional makeup, and curvaceous bodies.
Indian landing pages. What Are They?
Don't use too much info on landing pages; stick to a bare minimum, emphasize the action itself, offer a discount, and mention that today is the day: the price will not be lower!
By the way, the residents prefer the Cash on Delivery method.
Conclusion
India is one of the best GEO options due to its cheap traffic. The country has been showing excellent conversion rates for years, but the potential seemed to be hidden as the population is still growing. If you plan to work with this particular country, pay attention to Nutra (weight loss, hair care, sexual vigor, ointments for joint pain), gambling (wealth and easy money), and dating (traditional Indian beauty).